Imagine an adorable 17-year-old girl excitedly sitting down to watch Black Panther with her friends.  She becomes immersed in the movie and, suddenly, Michael B. Jordan (who plays the villain Killmonger) removes his shirt on screen.  And the girl clenches her teeth so hard her retainer snaps.
Yes.  That actually happened to Sophia Robb.  And this was the scene where she fell in love with Michael B. Jordan.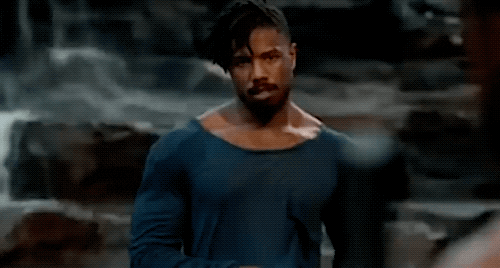 She's not alone, there's HUNDREDS of this gif floating around the internet.
Anyways, Sophia had to set up an emergency appointment to fix her retainer.
And although she had a hilarious story, she elected to keep it to herself.  But, word eventually got out because her ORTHODONTIST couldn't keep the hilarity to himself and relayed that story to Tumblr.  The post, as expected, blew up.
I WHEEZED pic.twitter.com/6aRep1AWXN

— mia (@lvstbleu) March 4, 2018
It didn't take long for her to see the now viral post and, obviously, knew that it was 100% about her.  I mean, not everyone shatters their retainer while watching a movie.  And especially not because they became so hot and bothered.  So, as the post went viral, Sophia realized that she wouldn't be able to keep the event to herself after all and came clean.
Wait. That girl is me. That is my orthodontist's tumblr. This is a post about me? I'm going to kill myself https://t.co/ErDqESPrWj

— Sophia (@pixyrue) March 5, 2018
But, is she mad that her ortho ratted her out?  Nah, she called him the 'chillest dude ever."  And, also, the fact that the post eventually attracted Jordan's attention.  Cue a happy ending for all!
.@pixyrue since I feel partly responsible for breaking your retainers 🤷🏾‍♂️ let me know if I can replace them 😅

— Michael B. Jordan (@michaelb4jordan) March 6, 2018
RIP my retainer @michaelb4jordan I am HONORED and GRATEFUL pic.twitter.com/IFfdKiCW0i

— Sophia (@pixyrue) March 6, 2018
Image credit: PR Photos