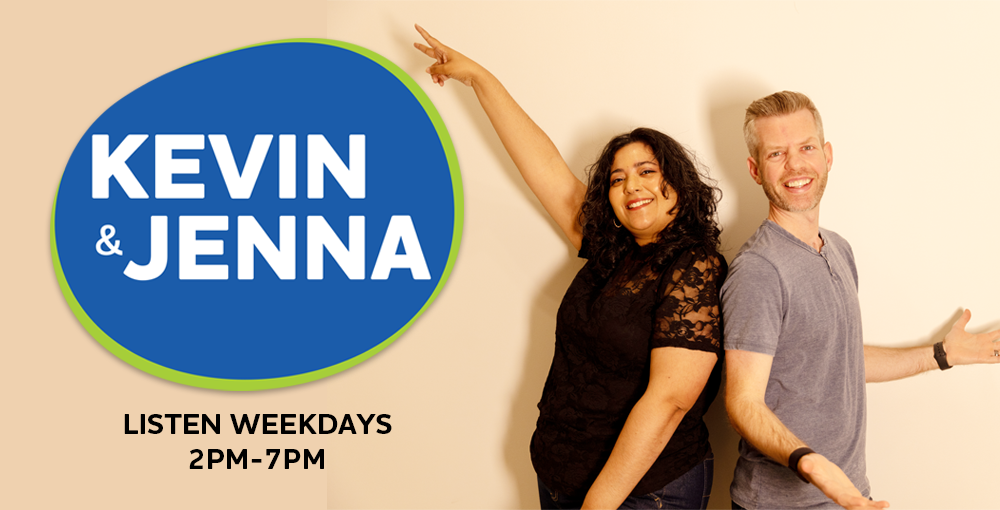 Listen to Kevin & Jenna every afternoon from 2pm-7pm on Star 99.9. Fun, fast-moving conversations about pop culture, family, and Connecticut life. Kevin & Jenna keep you up to date on everything you need to know as you wind down your workday with news and entertainment segments, plus daily interviews from Connecticut influences in "The Feed". Listen at 4pm for "I Should Have Known That" to win tickets to an upcoming show.
Follow Kevin & Jenna
Instagram | Facebook | Twitter
Latest from Kevin & Jenna
---
Meet Kevin
Hi, I'm Kevin Begley
I grew up in Massachusetts just south of Boston. Radio has taken me all around the country cracking the mic in Boston, Los Angeles, and Richmond, Virginia. I've been here in Connecticut on Star 99.9 since 2012. I live in Milford with my wife Shannon and two beautiful daughters Grace and Penny. My two favorite things in life, after my family, radio and music, are pizza and golf. Before you ask me where my favorite pizza in Connecticut is, please make sure you have at least a few hours to discuss. I'm so excited to be hosting the show with Jenna and hopefully making your afternoons a little more fun and exciting.
List of my favorite things:
Hobbies: Pizza (making it, eating it, talking about it). Golf (I'm always available for 9 holes. Any time, any course).
Movies: Good Will Hunting. Home Alone. Caddyshack. Ghostbusters. The Sandlot
Food: Pizza (see above). Tacos. Sushi. Bacon, Egg, & Cheese sandwich.
TV Show: Lost. Breaking Bad. The Office. Seinfeld. Ted Lasso.
Artist: Mumford & Sons, The Killers, Blink-182, Foo Fighters, OneRepublic, Lady Gaga, Ed Sheeran
Fun facts: I can (sort of) juggle. I once did a radio show with Jonah Hill for a week
Something I hope to learn this year: How to play pickleball. Seems like there's a lot of buzz
Meet Jenna
Hey there, I'm Jenna!
I am a Bronx-native thrilled to hang out with you every afternoon on Star 99.9! My radio adventures have taken me as far as Burlington, Vermont where I quickly learned I am NOT an avid skier. I love telling funny stories, and bringing you local and entertainment news updates on-air. Off the mic, you'll find me spoiling my 2 nieces with crafting or baking dates. If I forget to defrost the chicken, dinner will most likely be sushi or tacos. I LOVE bubble tea and bao. I am a big fan of social media and often find myself going down trending rabbit-holes. Let's be friends!
List of my favorite things:
Hobbies: Crafting, taking day-trips with friends, and cake decorating.
Movie: Jurassic Park (I'm a big dino nerd) and murder mysteries.
Food: If I could only eat one type of fast-food it would definitely be Taco Bell
TV Show: Comedies like New Girl or Schitt's Creek and pretty much everything on Disney+
Artist: Lauryn Hill, Ariana Grande, Lizzo, Sara Bareilles, Ed Sheeran, The Fray…the list can go on.
Fun fact: It's kind of a funny story, but I once won a talent show in Paris.
Something I hope to learn this year: Wheel throwing pottery. I want to have a "Ghost" moment at some point in my life.
Powered by